Easy, Efficient, Environmental! Electronic Statements!
See below for more details on how to receive your Free Online Statement.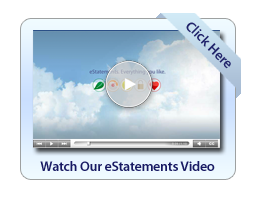 What are eStatements?


eStatements are electronic (PDF file) copies of your Council Bluffs Savings Bank account statements. The eStatement is a copy and contains all of the same information that you receive via your standard statement. The benefit of an eStatement is that you receive your statement online several days earlier than a mailed statement and you can view, print or save a copy of your bank statement at your convenience.



Why choose eStatements?


Free!
Faster than paper mail. You will receive your statement several days earlier than a paper statement.
Can't be lost or stolen in the mail.
Save a tree by saving your statements to your PC, disk or memory stick.
Never misplace another statement again, it's as close as your fingertips!



To access your eStatement, you will need the following:


Access to Council Bluffs Savings Bank's Online Banking.
An active email account.
A PC or Mac with access to the Internet.
A printer.
Microsoft Internet Explorer 8.0 or higher or Mozilla Firefox 4+ or higher or Safari 5.0 with 128-bit encryption. Our site is optimized for use with certified/recommended browsers. If you use a different browser, you may not be able to take full advantage of all the features of the site. NOTE: At this time Google Chrome is a supported browser, not a recommended browser. In addition, if America Online (AOL) is embedded within a certified browser, it is also considered to be supported. Otherwise, AOL is no longer a recommended or supported browser and has not been tested as thoroughly as a recommended browser.
Adobe Acrobat Reader 7.0 or higher is recommended



How do I know if I have any accounts eligible to receive online statements?


Your eligible accounts will be displayed on the bottom of the Options screen.



Will I stop receiving paper statements for my accounts?


Yes.
Can I go back to receiving paper statements after I have made the switch?
Yes, you can return to paper statements at any time by contacting us.



How do I sign-up?


Signing up is easy! Log in to your Council Bluffs Savings Bank Online Banking account, click the Options tab, scroll to the bottom of the page. Select the statement you want to view online by selecting the radio button, and press the Accept button. Accept the terms & conditions agreement, now your are ready to receive estatements.



How do I view statements online?


To view your statement online, sign in to your Council Bluffs Savings Bank Online Banking account, click the Documents tab, select the account you have signed-up for eStatements from the drop down menu, then just click on the month you wish to view and click submit. Your available estatements will show on the bottom left of the screen. Just click the link to view your estatement or click the disk to save your statement.

Click here for more information





Can I save my eStatement to my personal computer, disk or CD?


Yes, you just need to choose which format to download the statement in and then save it to the correct location on your personal computer at home.



What is the cost to enroll in eStatements delivery?


There is no charge for eStatements. They're free!



How long can I view my statements online?


Statements will be available for you to view, print or save for at least 90 days after they are made available to you. In most instances, they will be available for up to 6 months.



If I currently have my checking and savings accounts combined on one statement, will I still be able to view them that way once I enroll for eStatement delivery and will my eStatement look like the one I receive in the mail?


Yes. Once you have enrolled in eStatements, what you see on your statement for enrolled accounts will not change. You will continue to see the same account information you have been used to seeing on our paper statement. It is legally acceptable, even for record keeping purposes. You can also print a statement in the same format as a standard paper statement.



What if I have questions or don't understand how to sign-up?


No problem! Just give us a call at (712) 322-1700 or (712)-322-3300 and we can walk you through the sign-up process!